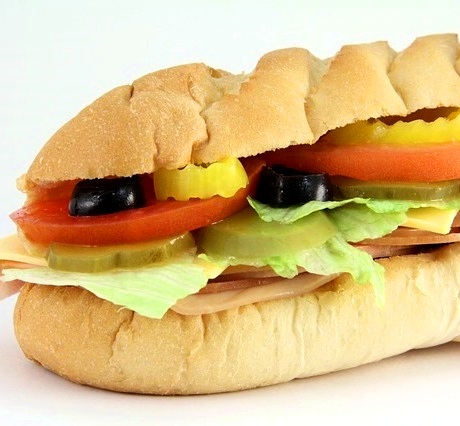 Table of Contents
The Subway diet is the weight-loss plan created by Jared Fogle, an obese college student who weighed 425 pounds (192.7 kilograms). The 22-year-old Fogle lost 245 pounds (111.1 kilograms) in 11 months by following a daily diet that consisted primarily of two low-fat sandwiches purchased at the Subway fast-food chain. After losing 100 pounds (45.4 kilograms), the 6-foot-2 (187.9-centimter) Fogle added walking to his daily routine. His dramatic weight loss led to Fogle's appearances in Subway commercials and his role as a motivational speaker and an advocate in the fight against childhood obesity.
Jared's Fogle's unique diet led to his weight loss and international fame as the star of Subway sandwich commercials. He created the Subway diet in March of 1998.By1999,heweighed 180 pounds (81.6 kilograms). In 2000, he began appearing in Subway TV commercials. His weight loss was illustrated by the image of the slender Fogle holding his pre-diet jeans with the 60-inch (152.4-centimeter) waist. At that time, Fogle weighed 190 pounds (86.1 kilograms). He had maintained that weight as of the spring of 2007 and wore pants with a 34-inch (86.4-centimeter) waist.
The public identified Fogle by his first name or as the "Subway Guy." The Subway diet was one component of Fogle's fame; the public also celebrated his weight loss and his campaign to educate others about the importance of diet and exercise. Fogle drew upon his life experiences when speaking about those issues to the media, on talk shows, and in presentations to schools and other groups.
Progressive weight gain
Physically, Fogle's ankles and wrists had swelled with edema. His blood pressure was high, and his sleep was interrupted by apnea. Overweight people are at risk of sleep apnea, a condition where blockage causes the person to repeatedly stop breathing. Fogle realized it was time to start dieting, and he described those efforts in his 2006 book, Jared, the Subway Guy: Winning Through Losing: 13 Lessons for Turning Your Life Around.
Deciding to diet
Fogle decided to lose weight during his junior year of college. He had moved out of the dorm and into an apartment located next to a Subway shop. While the shop was close to home, Fogle tried three other diets before creating the Subway diet. His first diet limited calories to 1,800 per day and involved extensive food preparation. The preparation was time-consuming, and he ended the diet. Next Fogle went to the store and stocked up on low-calorie and diet frozen meals. He disliked the taste of the microwaved meals and embarked on another diet. This one involved drinking diet shakes for breakfast and lunch and eating a sensible meal for dinner. Fogle thought the shakes tasted terrible. He abandoned that diet but was determined to lose weight. He researched and rejected what he called "one-size-fits-all" diets.
As spring break approached, Fogle found inspiration in Subway's "Seven Under 6 Grams of Fat" menu, a selection of seven low-fat sandwiches. In March of 1998, Fogle developed a weight loss plan that consisting basically of eating two sandwiches each day. Once he shed 100 pounds (45.4 kilograms) on his customized diet, Fogle started walking to school. He eventually established a routine of walking 1.5 miles (2.4 kilometers) each day.
By the following spring, Fogle had shed more than half of his original weight. Fame came when he encountered Ryan Coleman, a college friend who hadn't seen him in some time. Coleman was astounded about Fogle's weight loss and wrote about it for the college newspaper in April of 1999. Organizations including the Associated Press ran the story, and Men's Health magazine included Fogle's story under the heading "Crazy Diets That Work." That led to a
(Illustration by GGS Information Services/Thomson Gale.)
call from the agency that did the advertising for Subway.
Fogle described his weight-loss plan in the Subway commercials, saying that he ate two low-fat sandwiches and walked. The commercials highlighted his success. However, Subway did not endorse what the chain labeled the "Jared Diet," according to a December 2000 Subway news release. The chain's promotions emphasized its low-fat offerings and urged the public to exercise.
People motivated by Fogle called Subway, initially wanting to know more about his weight-loss plan. The chain also heard from hundreds of people who said they lost weight following their own versions of Fogle's diet. In 2001, five of those "Inspired by Jared" people appeared with him in commercials. By 2002, Subway had received more than 1,000 calls and letters from people. They told the chain that Fogle's story gave them hope; some people said they lost weight on his diet. Subway identified them as "Friends of Jared." Some of those people appeared in commercials, and Subway carried their stories on its website in 2007.
Meanwhile, Fogle continued to promote Subway and to speak about the importance of diet and exercise. In 2004, he created The Jared Foundation. The nonprofit foundation based in Indiana had the goal of tackling childhood obesity. The foundation's objectives were to:
Bring awareness and support initiatives that address the wide-spread epidemic of childhood obesity.
Provide easy-to-use tools that encourage children and support parents, caregivers, schools and community organizations.
Provide grants to organizations that are focused on fostering sustainable nutrition and exercise programs.
Form strategic alliances with key organizations to advance the understanding and application of programs that address childhood obesity.
Jared Fogle developed a diet that amounted to approximately 1,000 calories per day. As a college student, he usually ate before his first class, which was scheduled for noon or 1 p.m. Fogle said in interviews that he ate little or no breakfast. He sometimes breakfasted on a bowl of cereal with skim milk or a piece of fruit. Otherwise, a Subway sandwich was his first meal of the day. He sometimes snacked on a piece of fruit and took a daily multivitamin. His daily diet, according to his book, Jared, the Subway Guy: Winning Through Losing: 13 Lessons for Turning Your Life Around, consisted of:
Breakfast of coffee.
Lunch of a Subway 6-inch turkey sub, a diet soda, and small bag of baked potato chips or pretzels.
Dinner of a Subway foot-long Veggie Delite sandwich, a diet soda, and small bag of baked potato chips or pretzels.
Fogle ordered sandwiches filled with lettuce, green peppers, banana peppers, jalapeno peppers, and pickles. Fogle omitted cheese and condiments that contained fat like mayonnaise and oil. Instead, he used condiments like spicy mustard or vinegar. He alternated ordering the sandwiches on wheat or white bread, the choices that Subway offered at the time.
The sandwiches that Fogle ate were on Subway's "Seven Under 6 Grams of Fat," menu. In the spring of 2007, that list of subs consisted of a ham sandwich, roasted chicken breast, subway club, sweet onion chicken teriyaki, turkey breast, turkey breast and ham, and the Veggie Delite.
Nutritional information
Sandwiches were served on wheat bread and contained lettuce, tomatoes, onions, green peppers, pickles, and olives. According to the Subway 2007 "Nutritional Guide," the 6-inch turkey breast sub was 280 calories and had 4.5 grams of total fat and 4 grams of dietary fiber. The Veggie Delite sandwich was 230 calories for a 6-inch sandwich. The half-foot sub had 3 grams of total fat and 4 grams of fiber. The 6-inch sandwich provided two servings of vegetables, and the footlong sub contained twice that amount. According to the nutritional guide, Subway based those portions on amounts designated by the National Cancer Institute.
The guide published in 2007 described the nutritional content of all Subway sandwiches and offerings that included salads, fruit, chips, and cookies. Fogle ate baked potato chips. The 1.125-ounce bag of Baked! Lay's potato chips had 130 calories and 1.5 grams of fat, according to the guide. A similar sized bag of Rold Gold Classic Tiny Twist pretzels had 110 calories and I gram of fat. Fogle drank Diet Coke, which had no calories.
Subway's guide also included information about Fresh Fit meals for children and adults. The adult version consisted of a low-fat 6-inch sub, a bag of baked chips, apple or raisins and 1% low-fat white milk, water, or a diet drink. The Fresh Fit for Kids meal consisted of a min-sub, a fruit juice box or 1% low-fat milk, and a bag of apples or raisins.
Subway cautioned in the guide that Fresh Fit options should not be considered a diet program. The sandwich chain and Fogle acknowledged that a nutritionally balanced diet and exercise were important components of a healthy lifestyle.
Exercise and weight maintenance
Fogle began walking when he was physically able to do so. He started with walking to class and then began walking to do errands and around the large Indiana University campus. He added more exercise through activities like taking the stairs instead of the elevator. Fogle advised prospective dieters to find an activity that they enjoyed. He liked walking, and regularly walked 1.5 miles (2.4 kilometers). After reaching his goal weight, Fogle continued to walk and also participated in activities like the Heart Walk, an American Heart Association fundraiser.
The Subway diet was created by an obese man who was motivated to lose weight. After rejecting traditional diets, Jared Fogle developed a weight-loss plan based on the low-fat menu at the Subway sandwich shop. The low-fat subs were also low-calorie, and Fogle came up with his own version of portion control. The man who once ate an entire pizza limited himself to two sandwiches a day. While his plan was very restrictive, Fogle demonstrated that people who ate at fast-food restaurants could make healthy choices.
The benefits of the Subway diet start with convenience. The dieter buys prepared food, knowing that is low in fat and calories. Subway provides nutritional information, and the dieter doesn't need to purchase, clean, and cut vegetables. The weight-loss plan is based on portion control, and the dieter eats vegetables, bread, and turkey. Lean meats like poultry, vegetables, and grains like are among the recommended foods in the Dietary Guidelines for Americans 2005 produced by the U.S. Department of Agriculture (USDA) and the Department of Health and Human Services (HHS).
The federal guidelines also advocate physical activityas an important component of shedding pounds and maintaining a healthy weight. Jared Fogle's weight-loss plan included exercise. He created the diet because he liked fast food and enjoyed eating bread. On his diet, he didn't have to give up either.
Fogle also advised people to consult with a doctor and a dietitian before starting a diet. He said in interviews that he discussed his weight-loss plan with a dietitian. In addition, Fogle's health was monitored by his physician father. Several times during the diet, Jared received a full check-up and blood work was done.
The Subway diet provided 980 calories based on the consumption of a six-inch turkey sub, a footlong Veggie Delite, a bag of baked potato chips, and a bag of pretzels. This is below the daily limit of 1,200 calories
prescribed for dieters by the medical community. A person who consumes less than 1,200 calories per day could miss out on nutrients like iron, calcium, and protein. In addition, the calorie restriction could cause the dieter's metabolism to slow.
Jared Fogle was obese, and his diet was medically supervised. His food choices included lean meat and vegetables. However, a diet based on the repeated consumption of only certain foods could also lead to vitamin and/or mineral deficiency.
Research
Popular weight-loss plans like the Subway diet are evaluated in terms of scientific principles about nutrition. The evaluation takes into account factors such as the types of foods on the diet, whether foods are restricted, and total calorie content. Standard for evaluating food choices on diets include the Dietary Guidelines for Americans 2005. The federal guidelines recommended that people consume a variety of foods within each of the five food groups: fruits, vegetables, calcium-rich foods like milk and cheese, grains, and proteins.
Another issue of the diet was that Fogle skipped breakfast. The morning meal provides energy for the day. Eating a healthy breakfast helps children to concentrate in school, according to the American Dietetic Association. Research indicates that the morning meal may also help adults concentrate. In addition, dieters who skip breakfast may later become hungry and overeat.
Furthermore, the Subway website in 2007 contained a caution in the section about the "Friends of Jared." Subway noted that the weight losses depicted on the site were the result of exercise and a balanced, reduced-calorie diet that included the low-fat sandwiches. Results weren't typical, according to the notice, and people were advised to consult their physicians before starting a weight-loss plan.
Fogle acknowledged the deficiencies of his weight-loss plan. However, the plan helped him shed hundreds of pounds, weight that he managed to keep off through a combination of eating in moderation and exercising.
Moreover, a public-health advocacy group in 2002 praised the Subway chain and Fogle for having "helped lead the way to healthier fast food." That commendation came from the Center for Science in the Public Interest (CSPI), which rated Subway's low-fat subs as among the nation's best fast foods. CSPI's goals include advocating for nutrition and health.
General acceptance
The Subway diet was popular for a time when Fogle's commercials aired during the early 2000s. The Subway website in 2007 carried information about 15 "Friends of Jared," people who incorporated Subway sandwiches and exercise into their weight-loss regimens.
After Fogle's weight loss, he continued to represent Subway as an advocate of a healthy diet and exercise. He made about 200 public appearances annually, a schedule that continued in 2007. His message to people, particularly school children, was to avoid the pitfalls that caused childhood obesity. Fogle's story and oversized jeans illustrated the factors contributing to the obesity epidemic.
According to the CDC, the prevalence of obesity in people between the ages of 20 and 74 increased from 15% during 1976 through 1980 to 32.9% in the time from 2003 to 2004. The prevalence in younger overweight Americans during those years also rose during that time from:
5% to 13.9% for children aged 2 to 5 years.
6.5% to 18.8% for those aged 6-11 years.
5% to 17.4% for youths ages 12-19 years.
CDC attributed the weight increase to factors such as poor eating habits and lack of physical activity. While Fogle's biography provided a perspective on a growing trend, his story also demonstrated that people could successfully lose weight and keep it off.
BOOKS
Fogle, Jared and Bruno, Anthony. Jared, the Subway Guy: Winning Through Losing: 13 Lessons for Turning Your Life Around. St. Martin's Press, 2006.
PERIODICALS
Connolly, Ceci. "The Subway Guy, Still on a Roll; Jared Fogle Eats More Now, but Manages to Save Room for Success." The Washington Post (Oct 12, 2003): D.01.
Durham, Joan. "Losing weight the sub-way: as a 22-year-old college student, Jared Fogle took an unusual approach to losing weight; he went out for a sandwich." Saturday Evening Post(November/December 2002): 56 (5).
Mills, Bart. "A story in size 60 pants: Subway spokesman Jared Fogle brings famous pants, nutrition message to students." Lima News(March 6, 2007): Electronic Collection: CJ160190941.
Schoettle, Anthony. "Jared turns self-improvement into career: dramatic weight-loss tale opened doors of opportunity for Indianapolis-based Subway Restaurants spokesman." Indianapolis Business Journal (Dec 15, 2003): 17 (2).
ORGANIZATIONS
American Dietetic Association, 120 South Riverside Plaza, Suite 2000, Chicago, IL 60606. (800) 877-1600. <http://eatright.org>.
Center for Science in the Public Interest 1875 Connecticut Ave. N.W., Ste. 300, Washington, D.C. 20009. (202) 332-9110. <http://www.cspinet.org>.
Subway Restaurant Headquarters. 325 Bic Drive, Milford, CT 06461-3059. (800) 888-4848. <http://www.subway.com>.
The Jared Foundation, Inc. 89 Southwind Lane, Greenwood, IN 46142. (317) 626-3755. <http://www.jaredfoundation.org>.
OTHER
Centers for Disease Control and Prevention National Center for Chronic Disease Prevention and Health Promotion. Physical Activity and Good Nutrition: Essential Elements to Prevent Chronic Diseases and Obesity At A Glance 2007. <http://www.cdc.gov/nccdphp/publications/aag/dnpa.htm> (April 9, 2007).
Institute of Medicine of the National Academies. Food Marketing to Children and Youth: Threat or Opportunity? 2005. <http://www.iom.edu/CMS/3788/21939/31330.aspx> (March 31, 2007).
U.S. Department of Agriculture and the Department of Health and Human Services. Dietary Guidelines for Americans 2005, <http://www.health.gov/dietaryguidelines/dga2005/document> (April 9, 2007).
Liz Swain