Every year, thousands of individuals are displaced from their homes and homelands because of wars, political conflicts, and natural disasters. The Refugee Nutrition Information System (RNIS) was established in 1993 to collect data and report on the nutrition, health, and survival status of the most nutritionally vulnerable people in the world, including refugees, internally displaced populations, and those who are forced to migrate.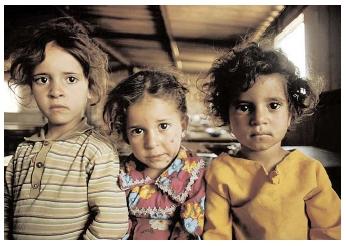 These girls are among more than four million Palestinian refugees in Gaza Strip and the West Bank. A recent report from the Refugee Nutrition Information System found Palestinian refugees to be satisfactorily coping with the nutritional impacts of the latest Intifada. [Corbis. Reproduced by permission.]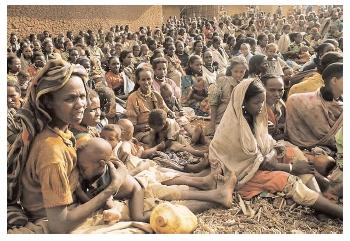 These refugees were displaced by years of warfare in their own countries. In the 1980s they came to Sudan from Ethiopia and Chad, only to find a famine awaiting them. [Photograph by Chris Rainier. Chris Rainier/Corbis-Bettmann. Reproduced by permission.]

The RNIS publication, Report on the Nutrition Situation of Refugees and Displaced Populations, is published every three months, with interim updates as needed. The United Nations (UN) Administration Committee on Coordination Sub Committee on Nutrition (ACC/SCN) compiles this report. Information is obtained from a variety of UN agencies and nongovernmental organizations.
The report focuses primarily on sub-Saharan Africa, with some information provided on Asia. The report gives an estimate of the total number of refugees and displaced persons, and of the returning population, broken down by risk category. Refugees and displaced populations are classified by country of origin and country of asylum. The report also shows trends over time in total numbers and risk categories.
The report is organized by "situation," a category that crosses national boundaries, and it includes a section that highlights the most pressing humanitarian needs. Recommendations are made by agencies or individuals directly involved in assessments or humanitarian response. Nutritional surveys are used to assess populations that are in a critical situation. Populations at high risk are identified either on the basis of indicators that are approaching crisis levels or through subjective information collected when security and logistical issues prevent rigorous data collection.
Internet Resources
United Nations (2000). "About RNIS." Available from <http://www.unsystem.org/accscn/page6.html>
World Health Organization. "Nutrition in Emergencies." Available from <http://www.who.int/nut/index.htm>