These foods are superstars because of their disease-fighting abilities and great taste.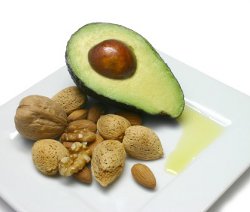 1. Avocados: They contain what's considered a "good" fat because it is high in heart-healthy monounsaturated fats. Avocados are also a good source of potassium, folic acid and fiber. Spread avocado on your sandwich instead of mayo or cheese.

2. Blueberries: Blueberries have been touted as possibly slowing the progression Alzheimer's due their high levels of antioxidants. The phytochemical, anthocyanin, that gives blueberries their deep blue color not only protects the berry itself, but also helps fight inflammation, protects your heart, and fights cancer. Blueberries are also a rich source of vitamin C, fiber, and the B vitamin folic acid. Add some to your morning cereal, yogurt, pancakes, salad, or low-fat ice cream.



(Tip continues below)




3. Cantaloupe: These orange-fleshed melons are an excellent source of beta-carotene and vitamin A (the body converts beta-carotene into vitamin A – antioxidant boost)! In fact, one serving contains 103% of your daily needs for vitamin A! Eating foods rich in vitamin A and beta-carotene helps protect your vision, fight inflammation, and may help protect you from certain cancers. Cantaloupe is also an excellent source of vitamin C, a powerful antioxidant that helps protect against heart disease, cancer, and stroke. Cantaloupe will also help you meet your needs for potassium, vitamin B6, niacin, and fiber. Fill half a cantaloupe with low-fat cottage cheese for a yummy and satisfying meal.

4. Citrus Fruits: They're popular and good for you! Citrus fruits contain disease-fighting flavonoids that are unique to the citrus family. They are also an excellent source of vitamin C and potassium, and a good source of folic acid and fiber. Oranges make a portable snack on the go!

5. Nuts and Seeds: Eating nuts and seeds may help prevent heart disease and they are a good source of protein, fiber, and healthy fats. Seeds contain lignans, which have been shown to help reduce cholesterol levels. Nuts, such as walnuts, are an excellent source of heart-healthy omega-3 fatty acids and almonds may even help control your weight when part of a low-fat, low-calorie diet. Enjoy a handful of nuts as a snack or sprinkle seeds on your salad.

6. Oats: Oats contain soluble fiber which helps reduce cholesterol. Soluble fiber also helps keep you full for longer. Oats are also a good source of calcium, B vitamins, potassium, fiber, and magnesium. Make your own low-fat, low-sugar granola at home and make a parfait with yogurt and berries.

7. Omega-3 Fish: The American Heart Association recommends including fatty fish in your diet 2 times a week (1 serving = 3 ounces). The healthy omega-3 fatty acids found in fish like salmon, tuna, and trout help keep your heart and blood vessels healthy. Try fish tacos for a change of pace or grill some tuna steaks on the BBQ for a quick and healthy meal.

8. Spinach: Popeye had something going! Spinach is a good source of iron and lutein which helps maintain eye health. It is also a good source of folic acid. Also, it only has 7 calories per 1 cup serving! Add spinach to your salad blend or use it on your sandwich in place of lettuce.

9. Tomatoes: Tomatoes contain lycopene and vitamins A and C. Lycopene may help fight cancer, keep your immune system healthy, reduce high blood pressure, and protect the prostate. Cooked tomatoes help the body absorb lycopene. Top off your whole wheat pasta with tomato sauce or enjoy salsa as a snack with baked, whole wheat pita triangles.

10. Yogurt: Look for yogurt that contains live cultures, which fight bad bacteria. This helps keep your gut healthy and aids digestion. People who are lactose intolerant can often eat yogurt with live cultures because they help breakdown the milk sugar, lactose. Yogurt is also full of calcium and protein. Choose low-sugar or plain yogurt and enjoy as a snack anytime! Also, try using yogurt in your next dip in place of high-fat sour cream.